View a selection of my projects where I'm proud of!
I have created websites, online marketing and social media strategies, videos, content and much more, all thanks to my clients.
With B-Connecting, creativity and marketing are under one roof, so I help you achieve your online growth in a unique way.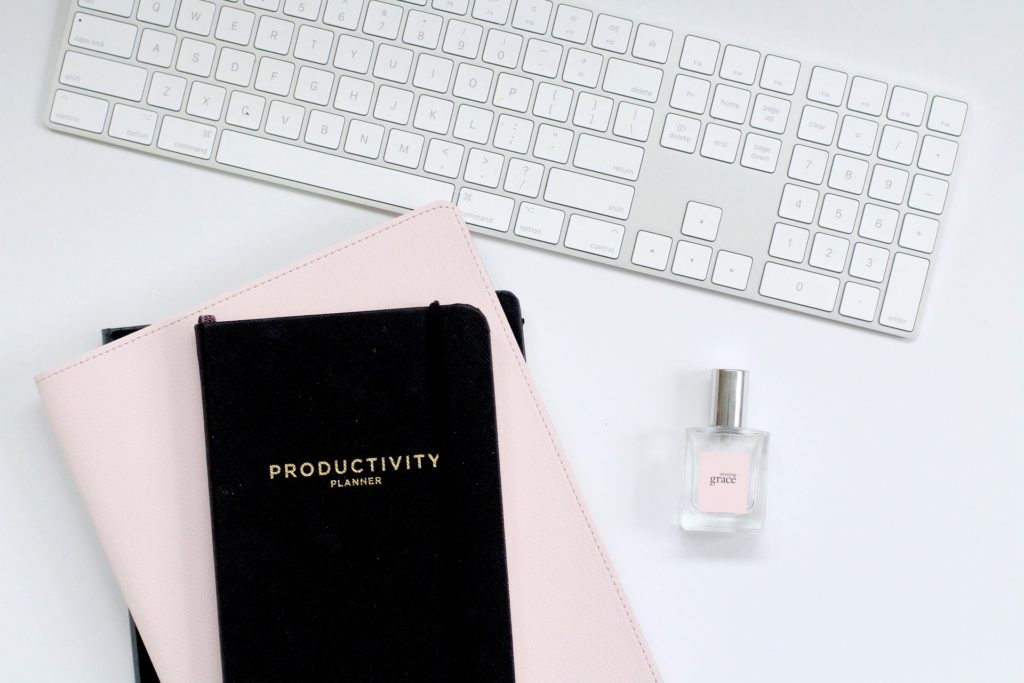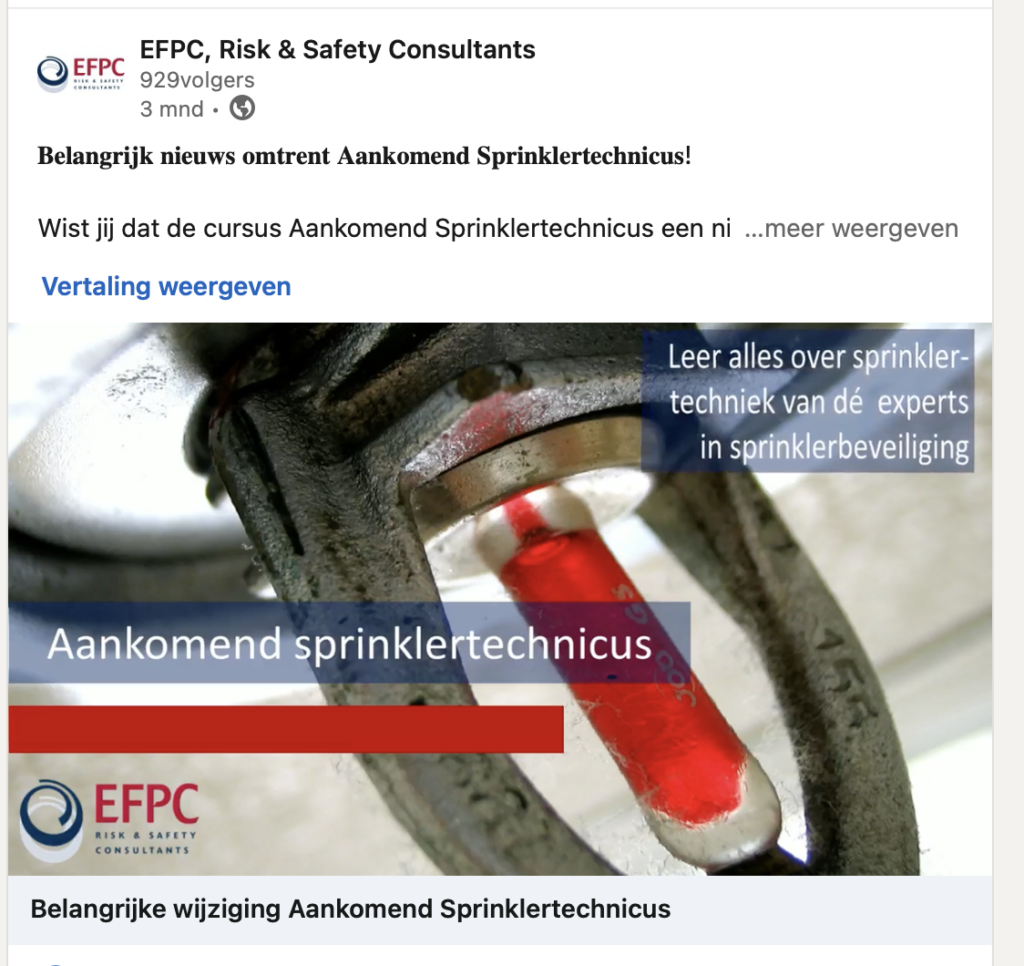 An international consultancy agency specialized in fire, explosion, machine, and electric safety. 
B-Connecting has been helping EFPC with their online marketing strategie since 2019. The following activities have been provided: 
Online Marketing Strategy: Where is the client look for online? And what content suits them best? And on which platform can they best be reached? 
LinkedIn marketing strategy: as a B2B company the primary social media tool for EFPC is LinkedIn. Therefore I have written a strategy for EFPC how to best use this social media platform.
Content calendar and content creation: to implement the social media strategy for LinkedIn a content calendar has been made. Moreover, employees have been helped with creating their content and multiple video's have been made. 
Advertising: to promote the courses that EFPC provides multiple Google Ads Campaigns have been run. 
Website updates: to provide up-to-date information about EFPC and share more knowledge about interesting topics the website has been updated with new content every month. 
Suvaal Tuinen is an experienced landscape gardener, located in Odijk, with years of specialization in the design, construction and maintenance of gardens.
B-Connecting has been helping Suvaal Tuinen with establishing en entire online image. This included:
Social Media Strategy: Where is the client searching for online? How can the client best be reached? What platforms should be used?
Social Media Creation: with the answers from the strategy, multiple social media channels have been created for Suvaal Tuinen.
Website Design: a completely new website for Suvaal Tuinen has been made.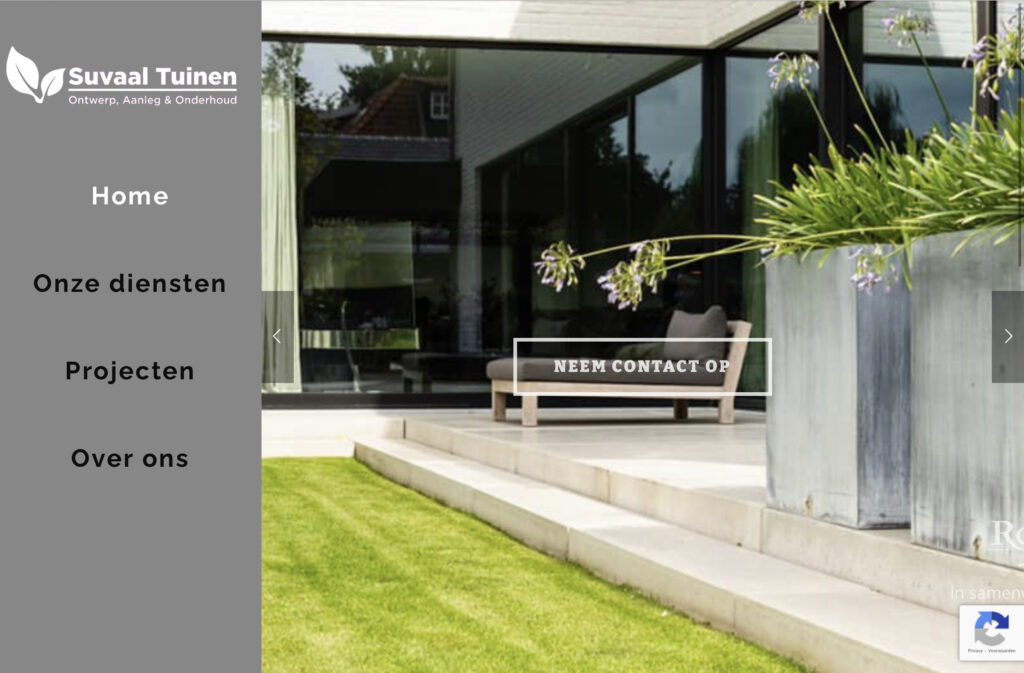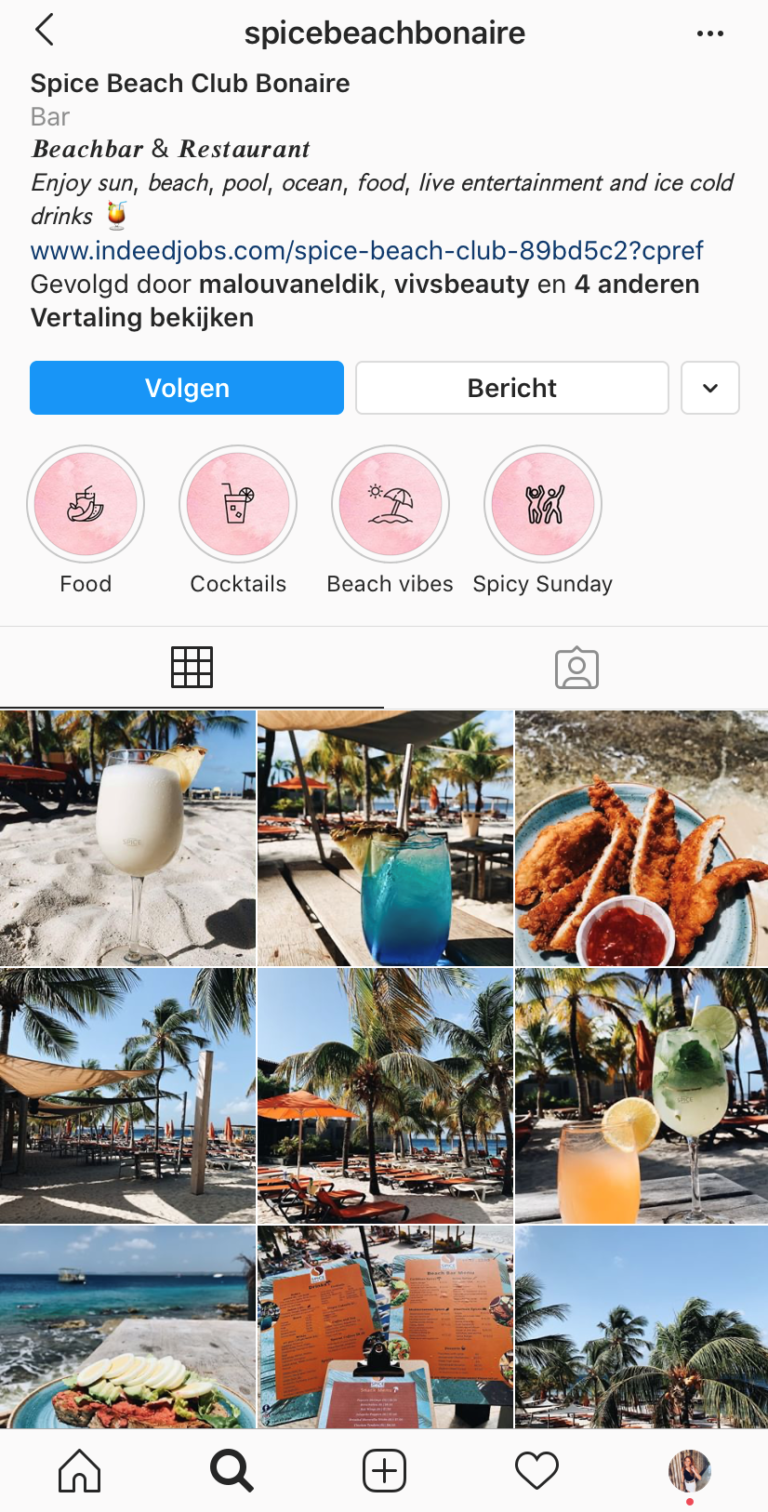 Beachbar and restaurant on Bonaire serving guests with food and drinks. 
During my stay on Bonaire I have been helping Spice Beach Club as a personal assistant. My tasks involved:
Brand Design: a completely new look and feel was designed for Spice Beach Club. 
Social Media Strategy: Facebook had been used in the past, but with the new brand look Instagram was added and the new look and feel was implemented on Facebook. 
Content Creation: for the social media and promotions multiple photoshoots have been done. After which creative captions were added. 
Promotions: to attract more visitors, multiple promotions have been done on the social media platforms. Therefore, new menu's and flyers were created. 
HRM: to make the employers feel at their best and guarantee a great work environment, I helped with all the HRM tasks. 
Partner contact: the suppliers and sponsor contact were another important aspect. Relationship maintenance was therefore, also done through e-mail and phone. 
Terramar Luxury Apartments
A luxury hotel located on the beautiful island Bonaire. 
The hotel had been closed and for the reopening with new owners, a new strategy was created by the marketing manager and B-Connecting. This included:
Website Design: to attract more visitors a new look and feel for a potential new website were designed. 
Content Creation: multiple photoshoots for the social media were arranged. In which we did the complete settings, partnerships with sponsors and photography. 
Social Media: the photos for social media were edited, scheduled and implemented in Later with a creative caption.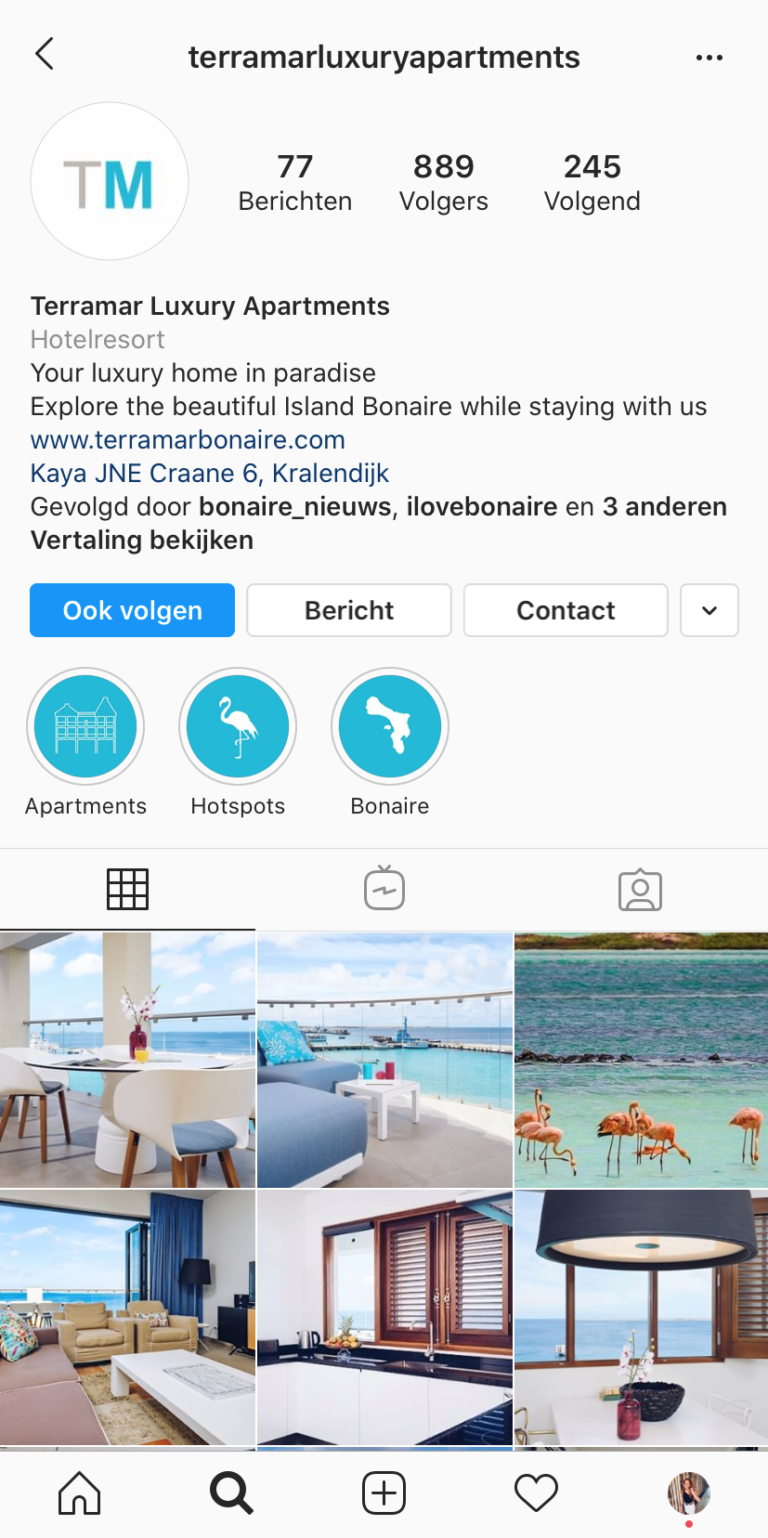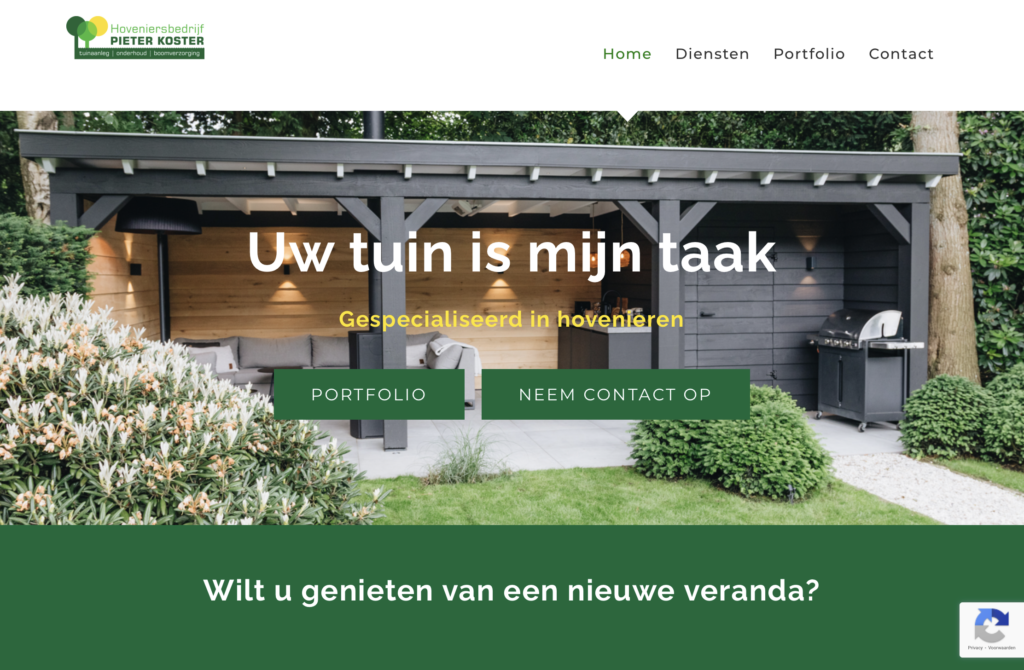 Hoveniersbedrijf Pieter Koster in Zeist, is a professional landscape gardener.
The gardener was using a very old website on which multiple plugins were outdated. Therefore a new website for Hoveniersbedrijf Pieter Koster has been created. 
Website Design: a completely new look and feel have been implemented on the new website. The website has completely been made by B-Connecting using WordPress . 
A webshop selling candles, diffusers, body creams and more. 
As a team member of the Fire Hive Marketing Agency I was given the assignment as social media manager for Yours Naturally. As a social media manager for Yours Naturally I do the following tasks regulalry:
Content Creation: from the photo library I pick the best photos, edit them and plan them in Later. More, reels and stories are created with Canvas. 
Social Media Engagement: Within the captions I invited the readers to give a reply. Therefore, I engage with the followers and also actively search for new followers. 
Social Media Scheduling: all the content is scheduled every week through Later for Instagram, Facebook and Pinterest.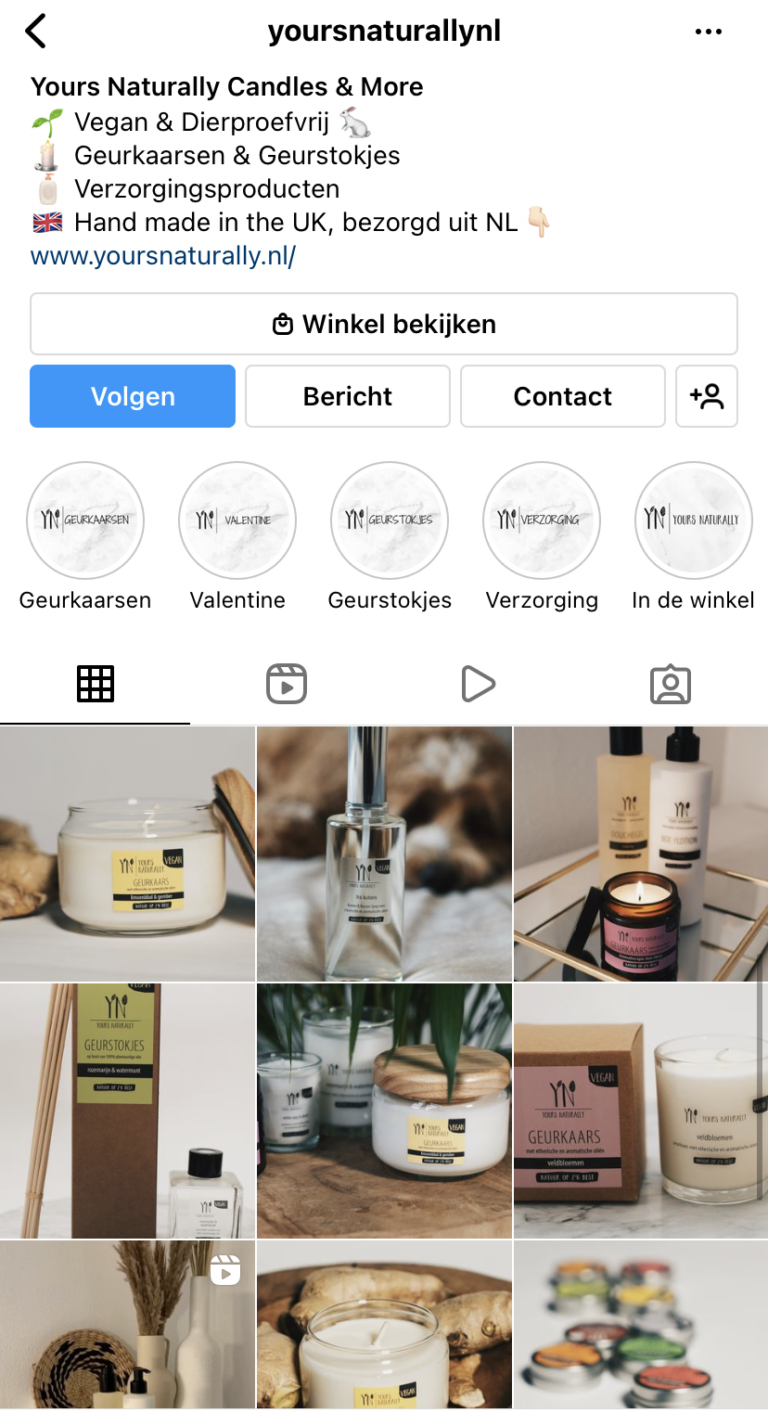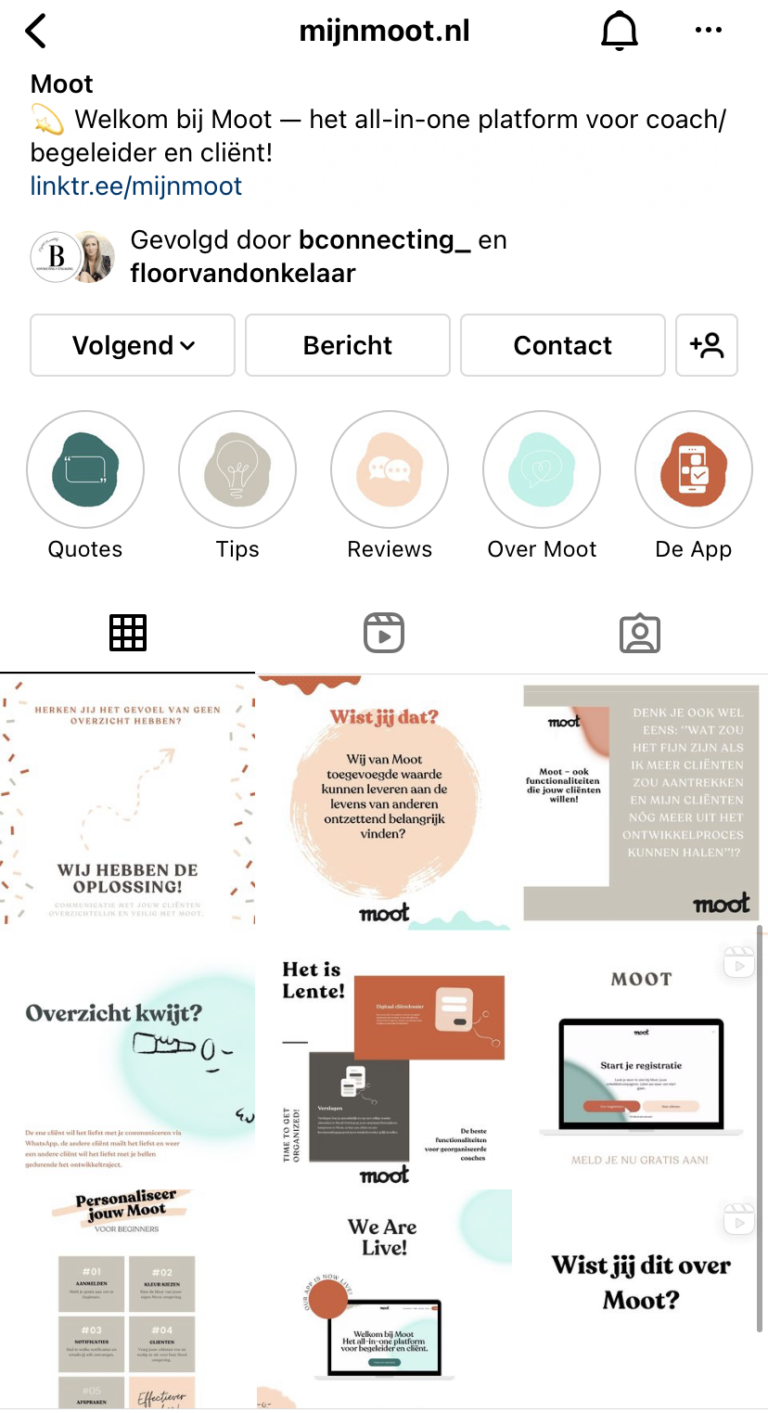 The all-in-one platform for coach and client. 
As the social media manager and online marketeer for Moot I have the following tasks:
Content Creation: within a brainstorm session every week the topics for the upcoming week are set. After which I create all the social media posts, reels and TikToks with Canva.
Social Media Engagement: to attract more clients and gain brand awareness I actively like and comment on the posts of potential clients. Moreover, I help them with their questions and reply to their comments.
Social Media Scheduling: with the use of the platform Later I schedule all the posts for LinkedIn, Facebook, Instagram, Pinterest and TikTok for every week. 
Partnerships: to gain more brand awareness we actively search for partners on Instagram and make contact with them. 
The Loca Alma Original is a sustainable, luxury, lifestyle brand. 
In the role of Social Media Manager for Loca. Alma. I perform the following tasks:
Content Creation: for every week posts, reels and stories are created in which the story behind Loca. Alma. is told. 
Social Media Scheduling: to have a constant flow of content on the social media the content in scheduled for every week with Later. This also gives the opportunity for my client to check my captions and posts. 
Social Media Engagement: to increase brand awareness and attract more clients I actively search for and engage with on new potential clients on Instagram.