View a selection of my projects where I'm proud of!
I have created websites, online marketing and social media strategies, videos, content and much more, all thanks to my clients.
I'm thrilled to share my journey as a social media/online marketer and showcase the projects that demonstrate my passion for creating impactful online presences.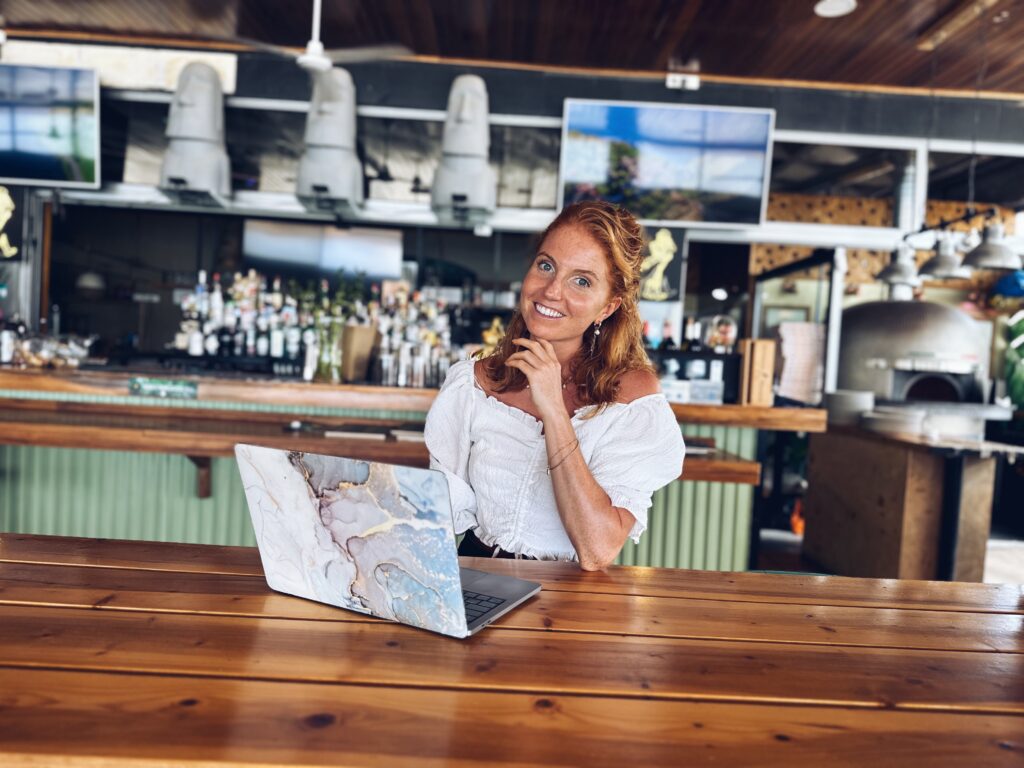 PlanPulse is a partner for organisations that want to improve their Enterprise Performance Management (EPM). EPM is the process of monitoring performance across the enterprise with the goal of improving business performance.
B-Connecting has played an instrumental role in collaborating with Plan Pulse to develop an innovative website and execute diverse email campaigns. This involvement encompassed:
Website Building & Design: In close partnership with Plan Pulse, we conceptualized and realized an entirely new website. This journey spanned from meticulously selecting a suitable template that harmonized with the essence of Plan Pulse, to crafting and shaping the website holistically – encompassing visuals, design elements, and compelling content.
E-mail Marketing Campaigns: I orchestrated several targeted email campaigns using Mailchimp, serving as a conduit to apprise both existing and potential clients about the comprehensive suite of services that Plan Pulse brings forth. Furthermore, I curated a series of engaging emails aimed at fostering sign-ups for the insightful webinars hosted by Plan Pulse.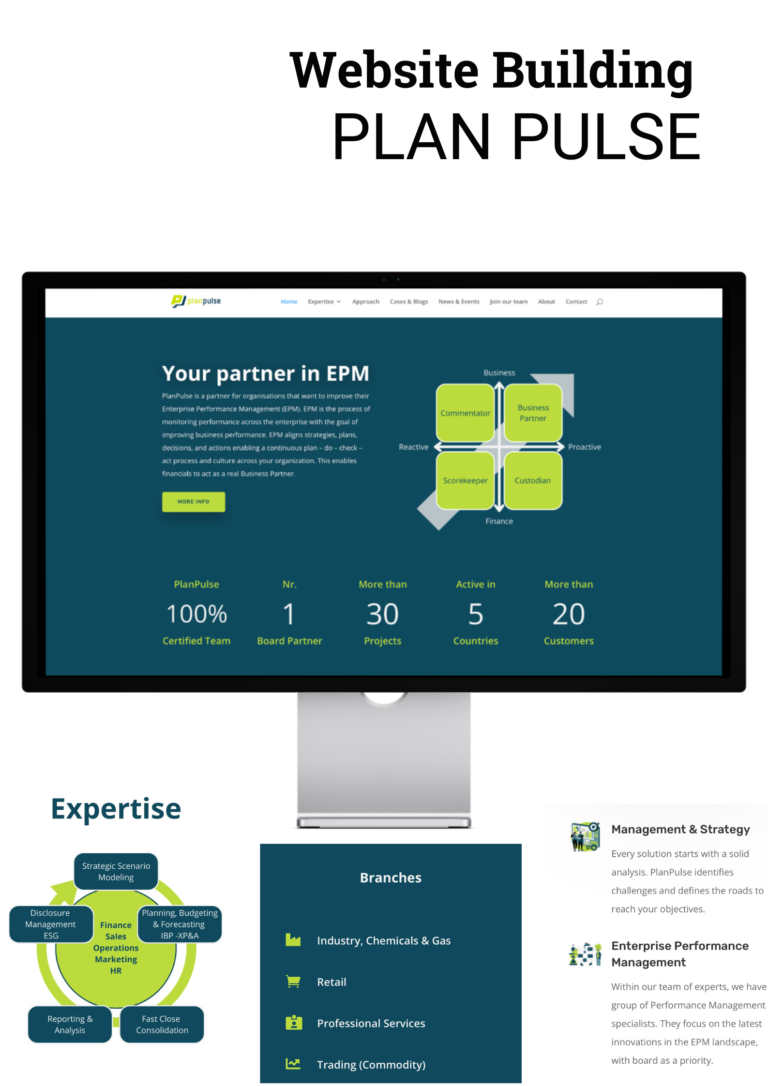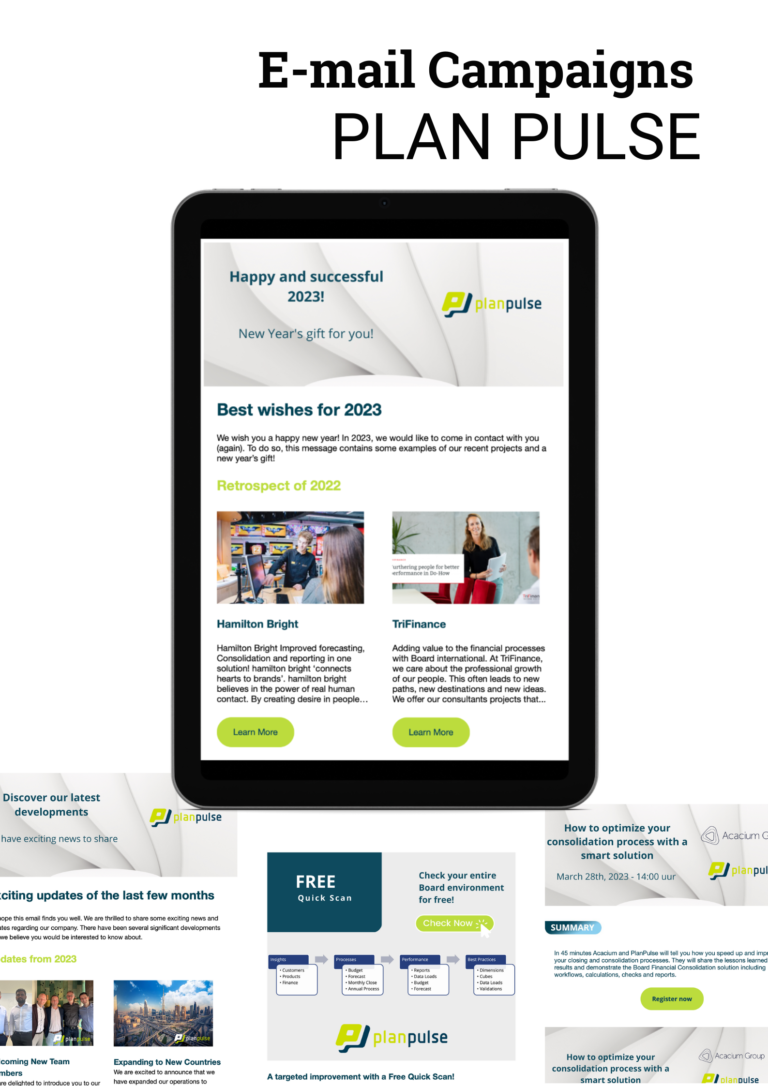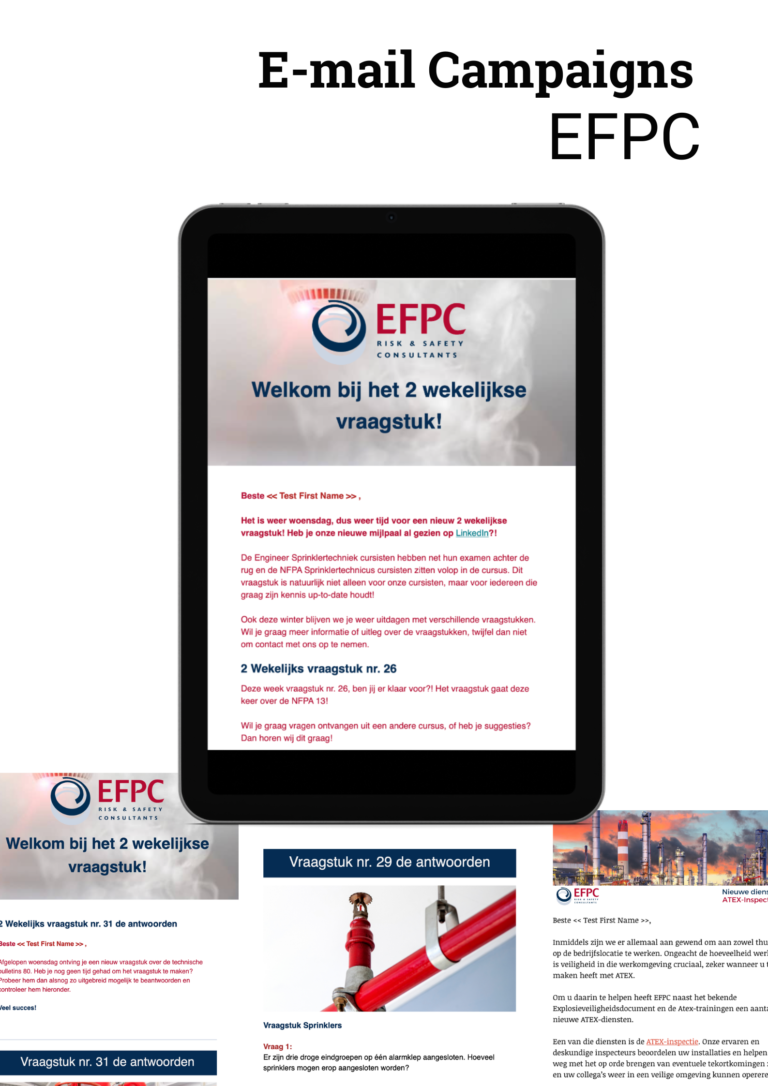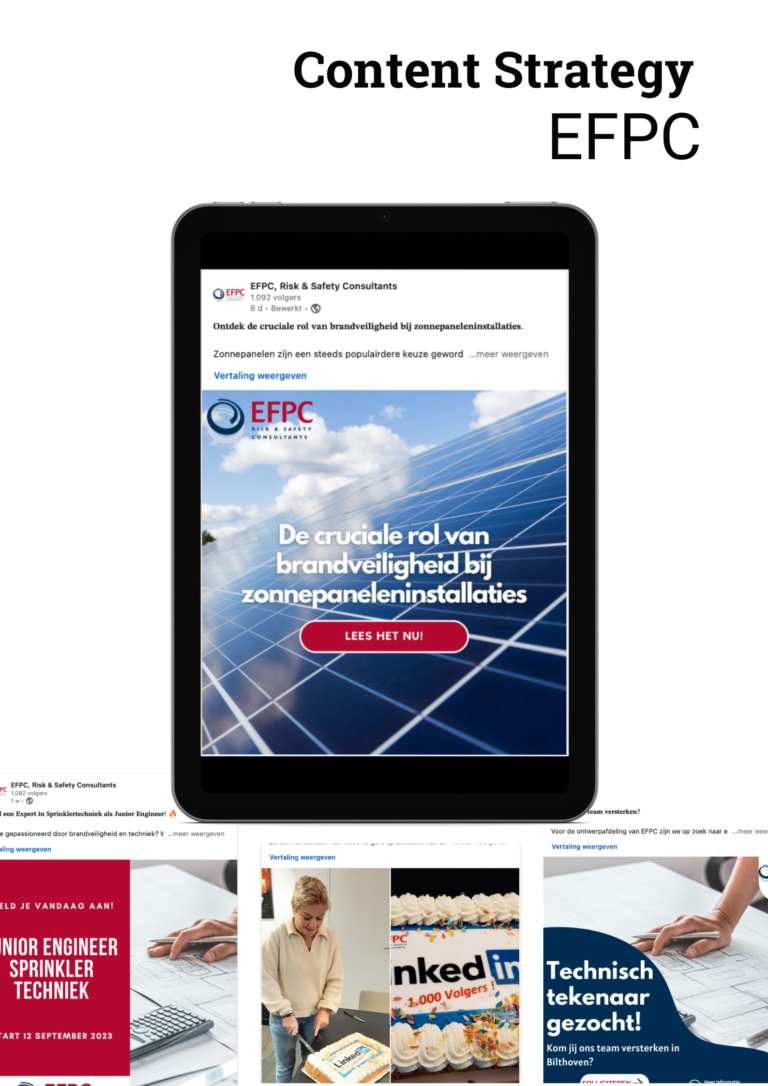 An international consultancy agency specialized in fire, explosion, machine, and electric safety. 
B-Connecting has been helping EFPC with their online marketing strategie since 2019. The following activities have been provided: 
Online Marketing Strategy: I partnered with EFPC to enhance their online presence through a comprehensive digital marketing strategy. By analyzing their target audience and industry landscape, I developed tailored campaigns that optimized their social media engagement, improved website traffic through SEO enhancements, and executed targeted email campaigns. This integrated approach resulted in increased brand visibility, higher website conversions, and a more engaged online community for EFPC.
LinkedIn marketing strategy: as a B2B company the primary social media tool for EFPC is LinkedIn. Therefore I have written a strategy for EFPC how to best use this social media platform.
Content calendar and content creation: to implement the social media strategy for LinkedIn a content calendar has been made. Moreover, employees have been helped with creating their content and multiple video's have been made. 
Advertising: to promote the courses that EFPC provides multiple Google Ads Campaigns have been run. 
E-mail Marketing Campaigns: understanding EFPC's unique needs and goals, I devised a comprehensive strategy to revamp their email marketing using Mailchimp. Through strategic thinking, tailored content, and the power of Mailchimp, we transformed EFPC's email marketing efforts into a valuable asset, driving engagement and achieving their business objectives.
Website updates: to provide up-to-date information about EFPC and share more knowledge about interesting topics the website has been updated with new content every month. 
Verenigde Brandveiligheid Experts (V-B-E)
The VBE is an association for fire safety experts with a passion for fire safety and its enhancement. The VBE organizes bi-monthly theme sessions on specific current topics. Additionally, an annual major societal theme is spotlighted through a seminar.
B-Connecting has played an instrumental role in developing an innovative and completely website  This involvement encompassed:
Website Building & Design: in a close-knit alliance with the V-B-E, we embarked on a journey to conceive and materialize an entirely fresh website. This voyage entailed meticulous deliberation in selecting a template that resonates seamlessly with the core values of the V-B-E. I further used creative prowess to sculpt the website holistically, amalgamating captivating visuals, sophisticated design elements, and persuasive content that collectively encapsulates the essence of the V-B-E's mission.

 

The resultant website stands as a testament to our commitment to realizing the V-B-E's vision, transforming it into a visually striking and user-centric online platform that conveys its dedication to fire safety expertise. This undertaking is a reflection of the dedication to excellence and our shared passion for elevating the standards of fire safety.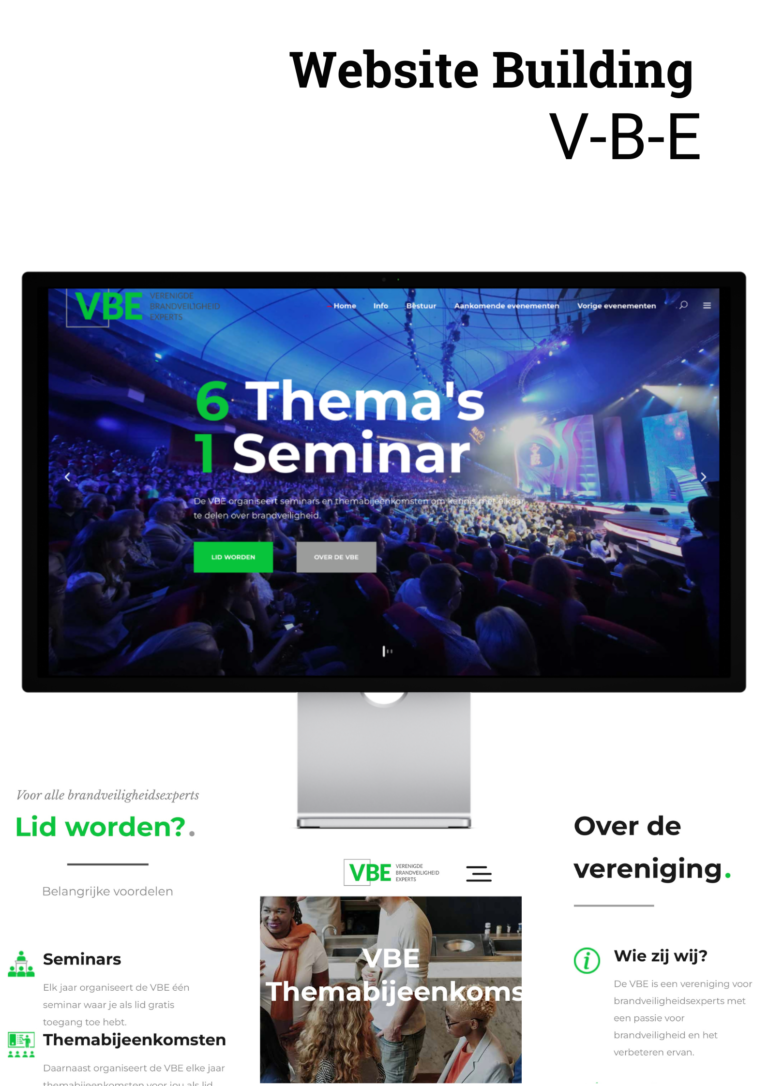 Suvaal Tuinen is an experienced landscape gardener, located in Odijk, with years of specialization in the design, construction and maintenance of gardens.
B-Connecting has been helping Suvaal Tuinen with establishing en entire online image. This included:
Content Creation: I conceptualized and developed compelling content that highlighted their unique landscaping projects. By curating engaging copy and visuals, we effectively communicated their passion for crafting outdoor havens, resonating with both existing and potential clients.
Social Media Management: Suvaal Tuinen's social media presence was optimized through starting their Instagram and Facebook profiles and targeted strategies. I developed and executed a comprehensive social media plan that showcased their projects, engaged their audience, and established them as experts in the landscaping domain.
Website Building & Design: I crafted a modern and user-friendly website that seamlessly showcased their landscaping expertise. Through intuitive navigation, striking visuals, and a responsive layout, I transformed their online platform into an engaging landscape for visitors to explore and connect with their services.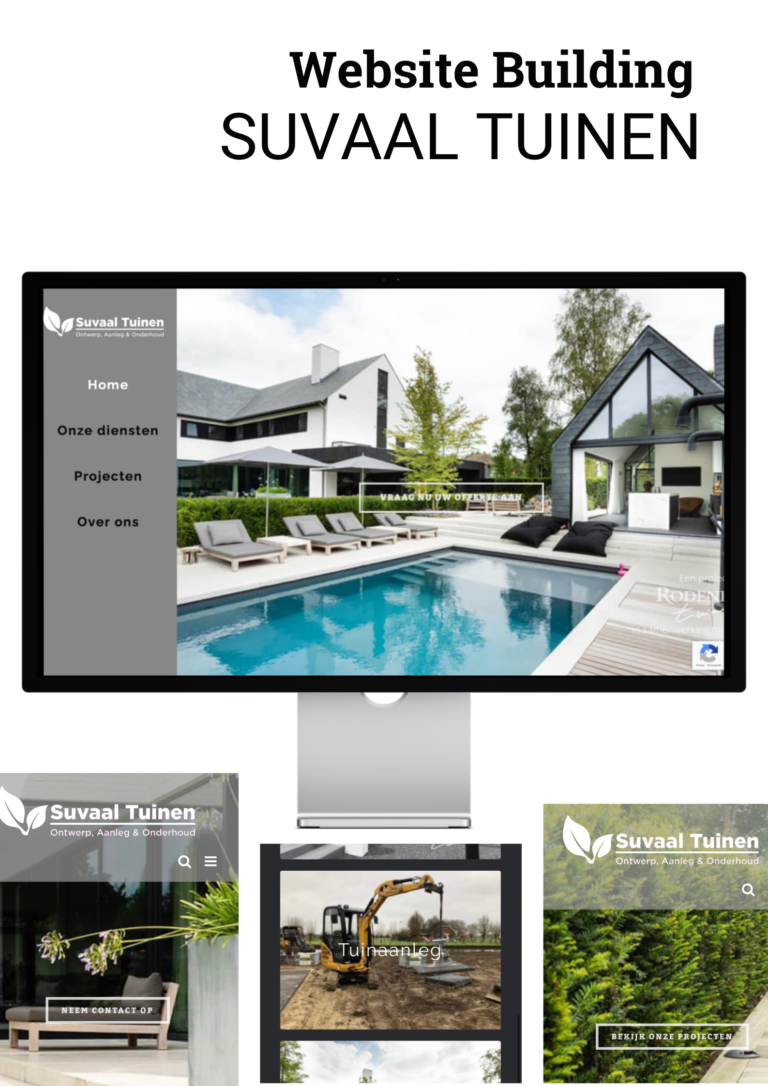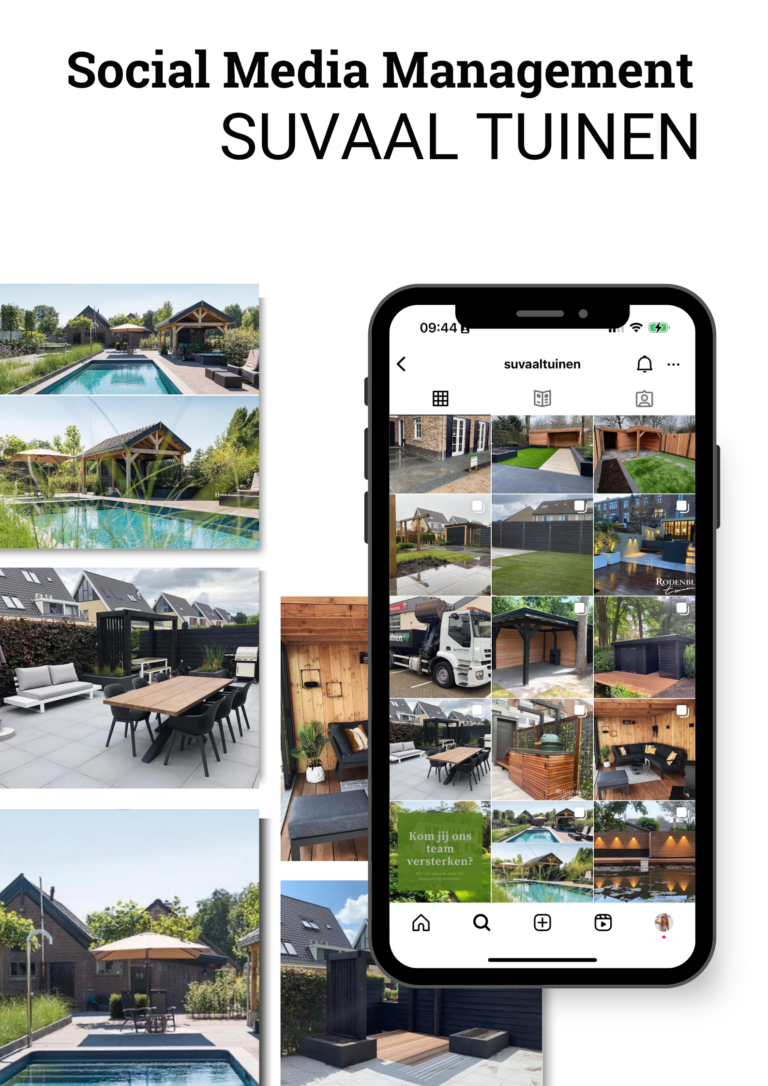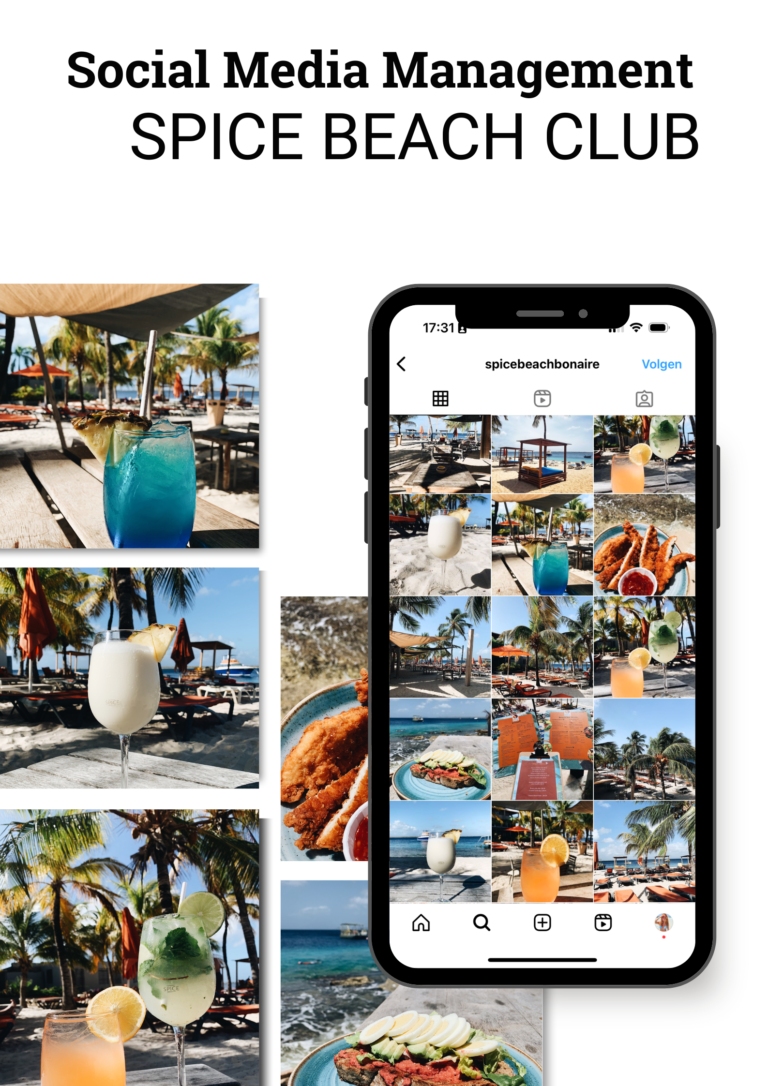 Beachbar and restaurant on Bonaire serving guests with food and drinks. 
During my stay on Bonaire I had the privilege of serving as a Personal Assistant at Spice Beach Club, where my responsibilities encompassed:
Brand Design: a completely new look and feel was designed for Spice Beach Club. From new menu's to an entire new brand image. 
Social Media Management: Building upon the existing Facebook presence, I introduced Instagram to the mix and harmonized the fresh branding across both platforms. Through strategic social media management, I orchestrated engaging content that fostered vibrant interactions with the audience, amplifying Spice Beach Club's online community. By curating compelling visuals, crafting captivating captions, and executing targeted promotions, we attracted a broader customer base and heightened brand appeal.
Content Creation: for the social media and promotions multiple photoshoots have been done. After which creative captions were added. 
Promotions: to attract more visitors, multiple promotions have been done on the social media platforms. This involved creating new menus and eye-catching flyers.
HRM: Ensuring a positive work atmosphere, I played a role in various HRM tasks to support the team's well-being.
Partner Engagement: I maintained strong relationships with suppliers and sponsors, utilizing emails and phone calls to nurture these vital connections
Terramar Luxury Apartments
A luxury hotel located on the beautiful island Bonaire. 
The hotel had been closed and for the reopening with new owners, a new strategy was created by the marketing manager and B-Connecting. This included:
Website Design: to effectively captivate a wider audience, I spearheaded a comprehensive redesign, crafting an entirely fresh and inviting look for a potential new website. The new design seamlessly complemented the updated brand identity, ensuring a cohesive and immersive online experience.
Content Creation: Elevating Terramar Luxury Apartments visual storytelling, I orchestrated a series of meticulously planned photoshoots. Collaborating closely with sponsors and partners, we meticulously curated each setting to capture the essence of the establishment, resulting in a captivating array of images for both social media and promotional use.
Social Media Management: with the striking visuals in hand, I meticulously edited and curated each photo, crafting a visually consistent and appealing feed. Leveraging social media scheduling tools like Later, I strategically timed and implemented the content, coupling it with creative and engaging captions that resonated with the audience, fostering a genuine connection and driving heightened engagement.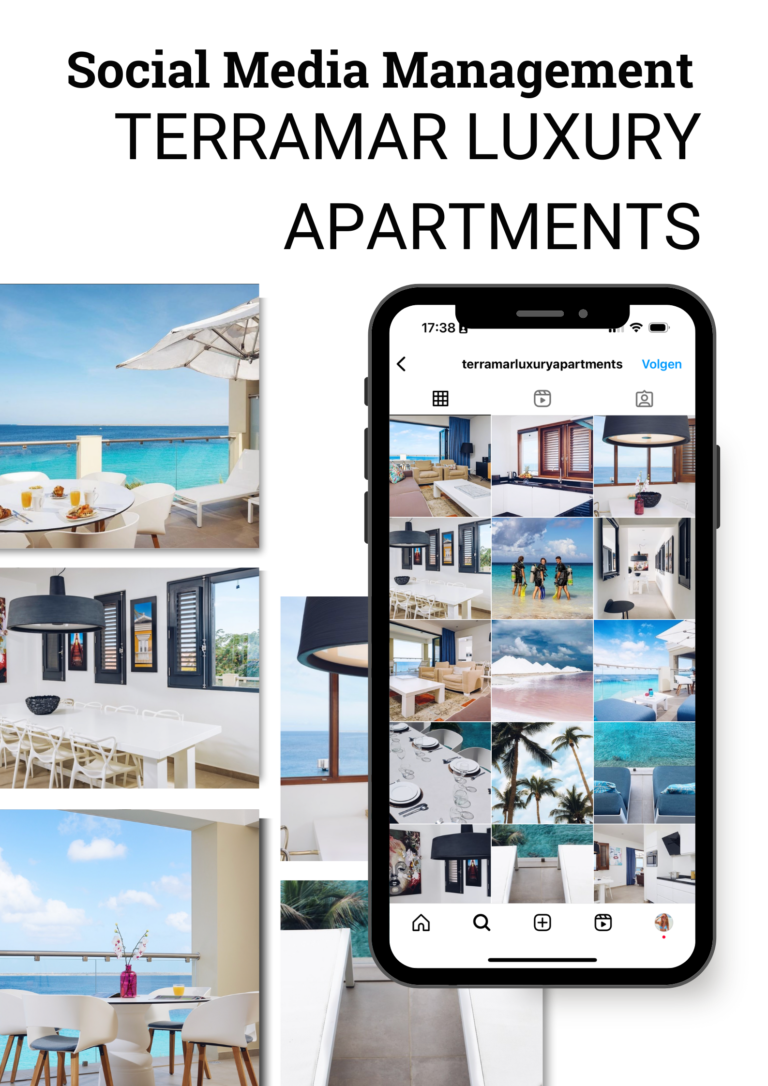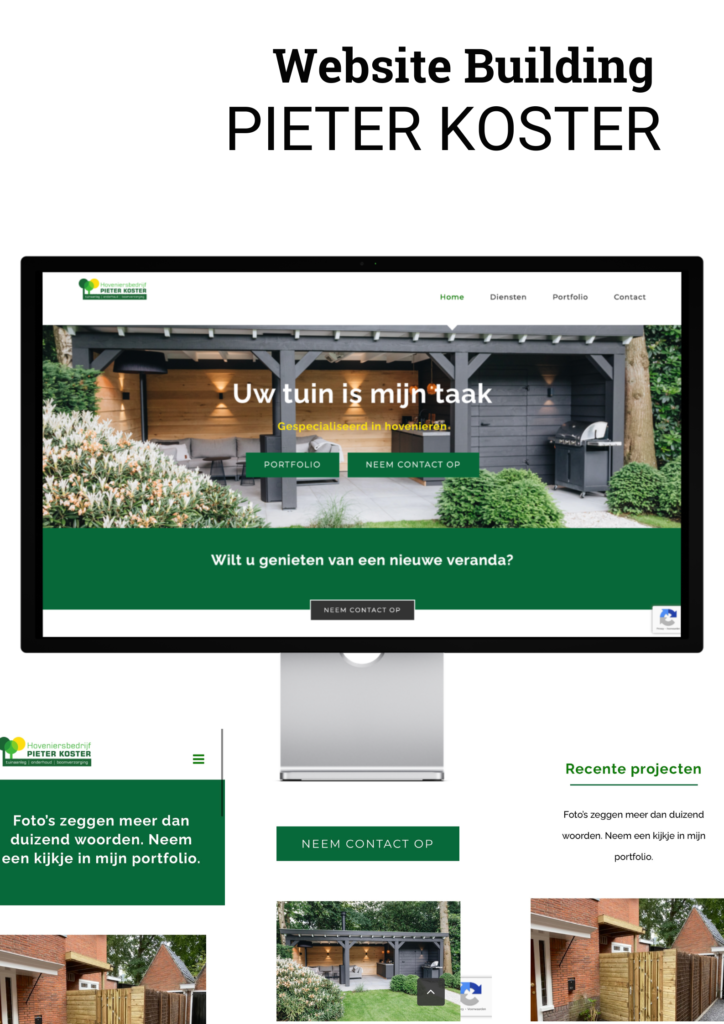 Hoveniersbedrijf Pieter Koster in Zeist, is a professional landscape gardener.
The gardener found himself grappling with an extremely antiquated website, where numerous plugins had fallen behind the times and were no longer up to date. Recognizing the need for a fresh digital presence, a brand new website was crafted for Hoveniersbedrijf Pieter Koster.
Website Building & Design: a completely new look and feel have been implemented on the new website. Throughout the process, regular feedback loops were established with the gardener. This iterative approach allowed for adjustments and refinements to be made in real-time, ensuring that the final product was a true reflection of the gardener's aspirations. This collaborative effort guaranteed that the website met every expectation and requirement before being launched to the public. The result is a stunning new website that not only stands as a testament to the gardener's expertise but also serves as a captivating online hub for Hoveniersbedrijf Pieter Koster's clientele.
A webshop selling candles, diffusers, body creams and more. 
In my role as a valued team member at Fire Hive Marketing Agency, I undertook the role of Social Media Manager for the esteemed brand Yours Naturally. Within this capacity, I executed a range of essential tasks on a consistent basis, including:
Content Creation: I selected the finest visuals from the expansive photo library. These chosen images were then deftly edited to align with the brand's aesthetic, before being thoughtfully scheduled using Later. Additionally, I harnessed the creative potential of Canvas to craft captivating reels and stories that resonated with the audience.
Community Management: recognizing the power of interaction, I skillfully wove prompts and questions into our post captions, actively encouraging readers to share their thoughts. This approach facilitated meaningful conversations and fostered a sense of community. Furthermore, I wholeheartedly engaged with our existing followers while proactively seeking out new ones.
Social Media Management: demonstrating meticulous organization, I orchestrated a seamless content calendar that spanned Instagram, Facebook, and Pinterest. Employing the advanced capabilities of Later, I expertly scheduled and published content on a weekly basis. This ensured a consistent and impactful online presence for Yours Naturally across these major platforms.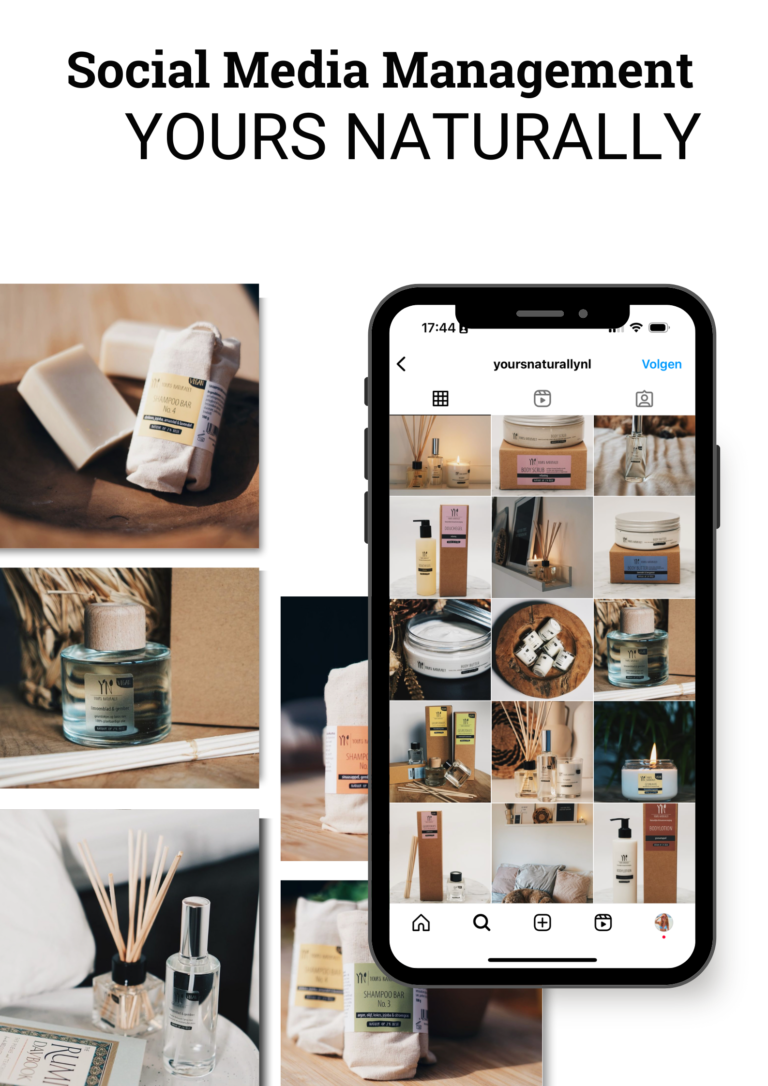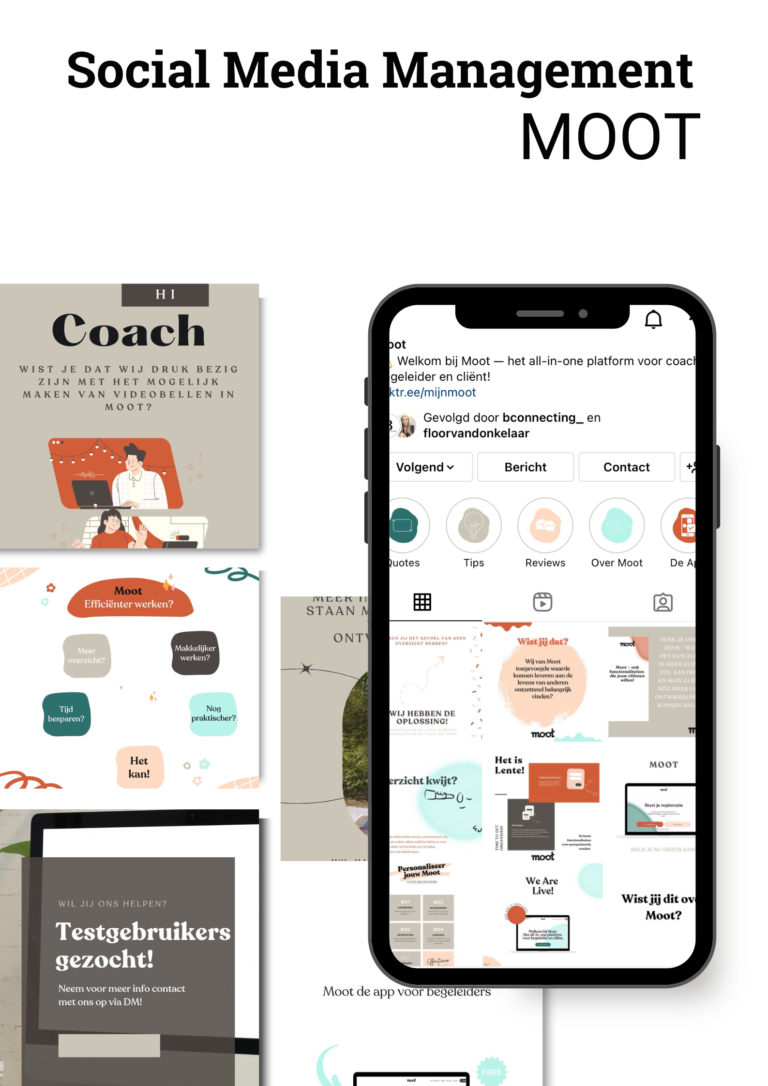 The all-in-one platform for coach and client. 
In my role as the Social Media Manager and Online Marketer for Moot, I have been instrumental in achieving the following key objectives:
Content Creation: through collaborative brainstorming sessions conducted on a weekly basis, I played a pivotal role in shaping the themes and subjects for the upcoming week's content. Armed with these insights, I adeptly leveraged Canva to curate a diverse array of engaging social media posts, captivating reels, and dynamic TikToks that resonated with our target audience.
Community Management: in pursuit of expanding our client base and enhancing brand recognition, I embarked on a proactive journey of engagement. This encompassed not only appreciating and interacting with the posts of potential clients but also demonstrating genuine care by addressing their inquiries and responding to their comments. By fostering meaningful connections, I effectively nurtured a loyal and engaged community.
Social Media Management: To ensure a seamless and consistent online presence across diverse platforms, I harnessed the capabilities of Later. With meticulous planning and precision, I scheduled and coordinated content dissemination on LinkedIn, Facebook, Instagram, Pinterest, and TikTok, ensuring that Moot's messaging reached its audience at optimal times.
Partnerships: recognizing the value of collaborative ventures, I proactively scouted for potential partners on Instagram, initiating and nurturing connections that amplified brand visibility. By establishing these symbiotic relationships, we effectively bolstered Moot's brand awareness and extended its influence.
The Loca Alma Original is a sustainable, luxury, lifestyle brand. 
As the dedicated Social Media Manager at Loca. Alma., my responsibilities encompassed a range of pivotal tasks aimed at fostering brand growth and engagement. Within this pivotal role, I undertook the following core activities:
Content Creation: every week, I meticulously crafted a compelling narrative through a variety of posts, reels, and stories. These pieces effectively conveyed the captivating story that lies at the heart of Loca. Alma. This approach not only engaged the audience but also established a deeper connection by sharing the brand's journey.
Social Media Management: to ensure a consistent and captivating online presence, I methodically organized and scheduled content on a weekly basis using Later. This seamless scheduling not only maintained an uninterrupted flow of content but also facilitated a collaborative review process with my client, allowing them to provide input on captions and posts before they were published.
Community Management: Acknowledging the significance of community engagement, I proactively sought out potential clients on Instagram, initiating meaningful interactions to enhance brand visibility. By fostering connections and cultivating relationships, I actively contributed to expanding the brand's reach and attracting new clients.